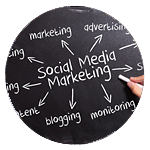 Dallas-based HipLogiq said this morning that it raised $5 million in its first round of fundraising.
Hiplogiq, which develops social media and marketing tools for companies and small businesses, said the funding will allow it to focus on marketing its two apps: SocialCompass and SocialCentiv.
Hiplogiq CEO and co-founder is Bernard Perrine, who was a former founding partner of Kinko's. HipLogiq began in October 2012 as Social Compass.
The funding was led by Hadron Global Partners, a division of Connecticut private equity firm Carriage House Partners and RLB Holdings.
Carriage House Partners founder Anthony Lanza pointed to Perrine's experience as well as its technology, which includes three patents and 11 applications on file, for investing in the startup.
Hiplogiq's $5 million fundraising is the second big investment in a Dallas area startup in recent weeks.
In late April, Dallas-based bookshout! raised $6 million in venture capital funding to expand its digital book distribution and community-building platform.