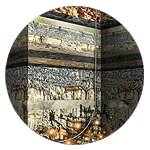 He went from Fred to fried to fracking.
Ray Bartoszek, days after Mets owner Fred Wilpon passed him over in favor of David Einhorn as a prospective minority investor in the team last May, quickly jumped at the chance to spend his money in a completely different field — he acquired a 200-acre former upstate Army base that could be renovated to serve frackers.
Talk about snatching victory from the jaws of defeat.
Now, nearly a year later, the former Glencore and Texaco oil trader, alongside private-equity firm Carriage House Partners, is pumping $20 million into buying and building a state-of-the-art material storage facility at the Horseheads, NY, site, which is three-and-a-half hours from Gotham. They plan on opening the facility, called Host Terminal, in September. In fact, new signs at the facility went up yesterday.
"I'm not the first to the Marcellus Shale fracking game, but I am early in the game," Bartoszek said.
"I'm trying to create a business that a year from now will make money," he said, even if New York does not lift its moratorium.
Rails at Host Terminal connect to Norfolk Southern, and the nearest similar facility is 300 miles away in Williamsport, Pa.
But there will be many more customers storing sand, pipes and cranes if there is a New York natural gas rush.
"I think Albany is moving slower than I would like," Bartoszek said.
An Albany insider believed there were signs the legalization fight was losing momentum.
Last month, a New York judge upheld the right of Dryden, NY, to ban fracking even if the state lifts the ban. There are reportedly about 20 Empire State towns that have banned the practice, which involves drilling into shale rock and then using water and chemicals to fracture the rock to release the trapped natural gas.
The Republican-controlled State Senate is split, and the Democratic Assembly is against lifting the ban, the insider said.
Bartoszek believes the US needs fracking and said he is looking for more opportunities to buy assets that facilitate drilling.
"I think that domestic resources that have been discovered in recent years have to be utilized in order for our country to better secure itself."