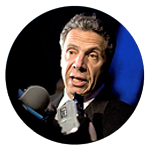 Former New York oil trader Ray Bartoszek has bet $20 million that he can turn Montana sand into fracking gold.
But today, as the 47-year-old energy maven-turned-private-equity mogul opens his upstate 200-acre rail terminal, his bet on the state's fracking future looks shaky.
"For the last six months, I felt the momentum was moving towards approval," Bartoszek told The Post this week.
But that was before Gov. Cuomo last week punted on whether he would decide to legalize hydraulic fracking in the state's Marcellus Shale region.
Cuomo's Department of Environmental Conservation said it would now partner with the Department of Health to finish its fracking review.
The DEC started its review back in 2008.
Bringing in the DOH means the state will not make a decision about legalizing fracking until next year, one source said.
"Governor Cuomo is a political candidate to lead our country and I would expect him to be more decisive," Bartoszek said.
The former Glencore and Texaco oil trader, alongside private-equity firm Carriage House Partners, has pumped $20 million into buying and building the Horseheads (NY) Sand and Transloading Terminal (HOST), which he hopes will be busy shipping sand to New York area drillers who are fracking along the state's Southern Tier.
The HOST terminal opens today, but the sand man will only be doing business with Pennsylvania drillers.
Undeterred by Albany's foot-dragging, Bartoszek said HOST will still make a profit — just a smaller one.
Plans are for Norfolk Southern trains full of fracking sand dug from mines in Montana and Wyoming to pull into Horseheads and unload at the rate of four cars an hour.
Currently, Marcellus Shale operators, including Baker Hughes, often unload fracking sand directly from parked rail cars paying the railroad for storage fees, Bartoszek said.
"It is time for this region to catch up with the rest of the country," Bartoszek said, adding that there are thousands of approved Northern Pennsylvania wells that need to be drilled.
"Our plan for 2013 is to serve 4,000 to 5,000 rail cars," he said.
Drillers inject fracking sand, water and chemicals into rocks to extract natural gas.
Part of the reason Cuomo may be back-pedaling is the historically low price of natural gas, decreasing demand from potential drillers.
Bartoszek said he expects prices will rise from $2.80 per million British thermal units to between $3 and $5 next year, when refiners get closer to building facilities that convert natural gas for export.
Bartoszek said US Sen. Kirstin Gillibrand's staff is interested in the jobs-creating HOST terminal and told him they would like to visit the facility.