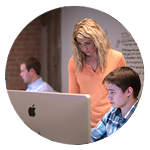 Dallas, TX — Nov 18, 2013 / (http://www.myprgenie.com) — HipLogiq announces today $7 million in series B funding from Hadron Global Partners, a joint venture created to invest in marketing automation, data analytics and eCommerce. Ray Bartoszek, principal of RLB Holdings, and Anthony Lanza, principal of Carriage House Partners (CHP), are majority owners of Hadron Global Partners. HipLogiq received $5 million in first-round funding in May of this year, with a majority of the capital also coming from Hadron Global Partners.
The funding will allow the marketing software company to focus on market growth and more robustly promote its two social media marketing applications, SocialCompass for enterprise and agencies with a white label license, and SocialCentiv for small to medium businesses (SMBs). The company plans to double the size of their team from 20 to nearly 40 employees, including a new sales vice president to focus on New York City and its high concentration of advertising and digital marketing agencies.
"Until now we've been focused on the launch and feature enhancement of SocialCompass and SocialCentiv," says Bernard Perrine, CEO and co-founder of HipLogiq. "But we've steadily been building momentum with our applications with clients such as Papa John's, Dunkin' Donuts and 7-Eleven, and this funding will allow us to drive sales and marketing to the next level. It's exhilarating to watch our hard work move forward and pick up steam."
"HipLogiq has a compelling story, and I'm committed to nurturing and supporting them through Hadron," says Bartoszek. "An investor's contribution is more than just capital. I want to work hard alongside them and help the company grow. I can provide the right connections — not just to network but problem solve and brainstorm too. I'm in this for the long-term."
Bartoszek and his wife Lydia started RLB Holdings in 2011 as co-founders to look for valuable opportunities poised for substantial growth, and to provide positive economic and community benefits. CHP is dedicated to providing capital, strategic direction, legal expertise, business development and other opportunities for its investments and portfolio companies. Together, RLB's and CHP's investments include Hadron Global Partners, real estate development, Bode Technology — a leading DNA lab, and Solutions Point International — a leading risk management company.
Bartoszek says that there are three things he looks for in an investment. "First and foremost, I invest in people, and their integrity and expertise. Then you ask about vision and planning, paying close attention to promises and predictions that are made. If they consistently come through, then that is a company I want to support. And finally, you look at longevity. Is this a company that's worth the patience and support, and a good fit with your portfolio? HipLogiq measured up in all three areas."
His prediction for HipLogiq's evolution? "Technology moves so quickly that it's hard to imagine what's next. But we're grooming the company to be flexible and ready to respond to those changes. What I do see is a larger, successful company with the right team and the smartest systems to be able to block, tackle and shift based on the market and what our customers need our products to do."
How HipLogiq's applications work
With an unprecedented 34 percent or higher average conversion rate, HipLogiq's patented Engagement Engine(R) searches Twitter and looks for relevant tweets based on a business' keywords and location. When the software finds a relevant tweet, it's flagged on a dashboard so a business can respond in real time with an offer — 20 percent off, free product or Buy One Get One (BOGO), for example — to turn a potential prospect into a customer. This is called a location-based conversation (LBC). Every time a user engages with an LBC, such as responding to a tweet or flagging a tweet as "not relevant," the software gets better and better at picking out the most relevant tweets. Beyond the single sale, a customer who receives the original offer receives an incentive two days later to share with their friends, potentially creating even more sales for that business.
About HipLogiq
HipLogiq began in October 2012 as Social Compass, an enterprise solution for social media marketing, now with a white label solution for companies and agencies that want to brand the tool. Co-founders Lindsey Madison, Adam Root and Bernard Perrine designed the patented technology to help companies target and engage customers over social media in a meaningful, results-driven way. SocialCentiv — launched in March 2013 — works similarly for small to medium businesses, but with a web-based, do-it-yourself solution. During the design of SocialCentiv, leadership decided it was time to evolve the company into an idea factory that produces the most innovative, successful applications in their market space. As a result, HipLogiq also launched in March 2013 and received $5M in series A funding shortly after. For more information, go to www.hiplogiq.com or visit them on Facebook or Twitter.
# # #
Contact: Karen Carrera, karen@trizcom.com, 972-207-1935